NeoGraft® HAIR RESTORATION
IMPROVE
VERTEX THINNING
AND
RECEDING HAIRLINE AROUND TEMPLES
HAIR APPEARS THICKER AND FULLER
EXCELLENT RESULTS WITH A MINIMALLY INVASIVE HAIR LOSS TREATMENT
ADVANCED TECHNOLOGY
Dr Nik uses the state of the art Neograft 2.0 machine for hair replacement. This method uses FUE (follicle unit extraction). Usually the hair is taken from the back of the head (donor site), where there tends to be a thicker and greater volume of hair. Each single hair is then transplanted to the areas in need e.g crown, receding hair line, thinning, baldness, etc. The result is a well disguised donor site and a fuller, denser area where implantation takes place.
The procedure itself takes one day and the down time is minimal, generally you will be back to work in 3-5 days. Results typically take 6 months to show and the satisfaction rates are very high. This procedure is often life changing for those who have a daily battle with the stigma and embarrassment that loosing hair can cause.
Dr Nik is the only provider on the Central Coast, also servicing Sydney and Newcastle, of this procedure and his meticulous method ensures his patients see the best results.
Consultations are imperative and you can book through our website or by calling 02 4365 1173
Who is a good candidate for FUE using NeoGraft™?
Patients who would like the option of wearing a very short haircut in the back or sides of their scalp, or those who want the least amount of activity restriction (e.g. athletes) after their hair transplant procedure, may be good candidates for FUE with NeoGraft™. FUE can also be used for 'scar camouflage' procedures for patients who have had prior "Strip" procedures, as well as for body hair transplants.
What are the major cost differences between FUE and linear-harvest hair transplant procedures?
The fee structure for FUE hair transplant procedures reflect the more detailed and intricate nature of those procedures compared to those performed with a linear harvest strip method but in most cases is very similar in pricing.
What is NeoGraft™?
NeoGraft™ is a new automated device which facilitates the harvesting of follicles during a Follicular Unit Extraction (FUE) and implantation hair transplant procedure, dramatically improving the accuracy and speed over previously-used manual extraction instruments.
What is an "FUE" hair transplant?
"F.U.E." or "Follicular-Unit Extraction" is an advanced, "minimally-invasive" hair transplant method which allows for the harvesting of individual follicles from the back of the head (donor area) without a scalpel or stitches, and therefore leaves no linear scar.
What are the main benefits of FUE over the traditional "Strip Method" or linear harvesting?
It is well-accepted that FUE transplants can heal faster and more comfortably than linear-harvest techniques which the physician uses a scalpel and removes a strip of scalp requiring stitches. With the minimally invasive technique FUE, the patient can return to work in a couple of days and once healing is complete, the patient has the option of wearing a very short haircut without the worry of a tell-tale linear scar. Without the need for stitches, downtime is shorter with fewer activity restrictions post-operatively.
What are some benefits of NeoGraft™ over manual FUE techniques?
The highly ergonomic mechanical NeoGraft™ device works as a natural extension of the surgeons' hand, allowing for faster and more accurate harvesting of hair follicles. NeoGraft™ patients now reach their goal with less time in the procedure room or fewer FUE procedures altogether.
Are the final transplanted 'results' any different with FUE/NeoGraft™ than those achieved with linear harvesting?
Results are similar. FUE procedures, by default, yield grafts that contain mainly one, two, three, or four follicles called "follicular units." Strips or linear harvests, are removed from the back of the scalp and are then microscopically dissected by a team into grafts of one, two or three follicles, would also yield similar 'follicular-unit' grafts. Provided that in each case the grafts are implanted with care, artistry and precision into the recipient area, the final transplanted results with FUE would be similar, if not identical, to those accomplished with a linear harvest. The difference is not in the area of hair growth, but how the donor area is harvested either by a strip of scalp or by small individual graft extractions. Using the FUE Technique, leaves no linear scar.
Is FUE/NeoGraft™ suitable for both men and women?
Yes. Because FUE/NeoGraft™ is a minimally-invasive procedure, it is a viable option for both men and women looking to restore their own living and growing hair with transplantation.
Do I have to get a total 'buzz cut' to have an FUE/NeoGraft procedure?
No, if your hair is long enough, harvesting using the FUE/NeoGraft can be done by shaving small areas which can be covered by your other, existing hair.
Am I a good candidate for a procedure using FUE/NeoGraft?
The best way to determine whether you are a candidate for hair transplant using FUE/NeoGraft is a one-on-one consultation with your doctor.
Dr Nik studied Medicine at the the University of St.Andrew's and the University of Manchester
Post graduate with distinction at London Bart's college in medical aesthetics
Skin cancer doctor with advanced minor surgery skills
Derma Medical Australia trainer and educator
Key opinion leader for Teoxane
Member of ACAM (Australian College of Aesthetic Medicine
Senior cosmetic doctor at Dolce Vita Skin Clinic in Erina, NSW
View Dr Niks Before and Afters
RESULTS
BEFORE AND AFTERS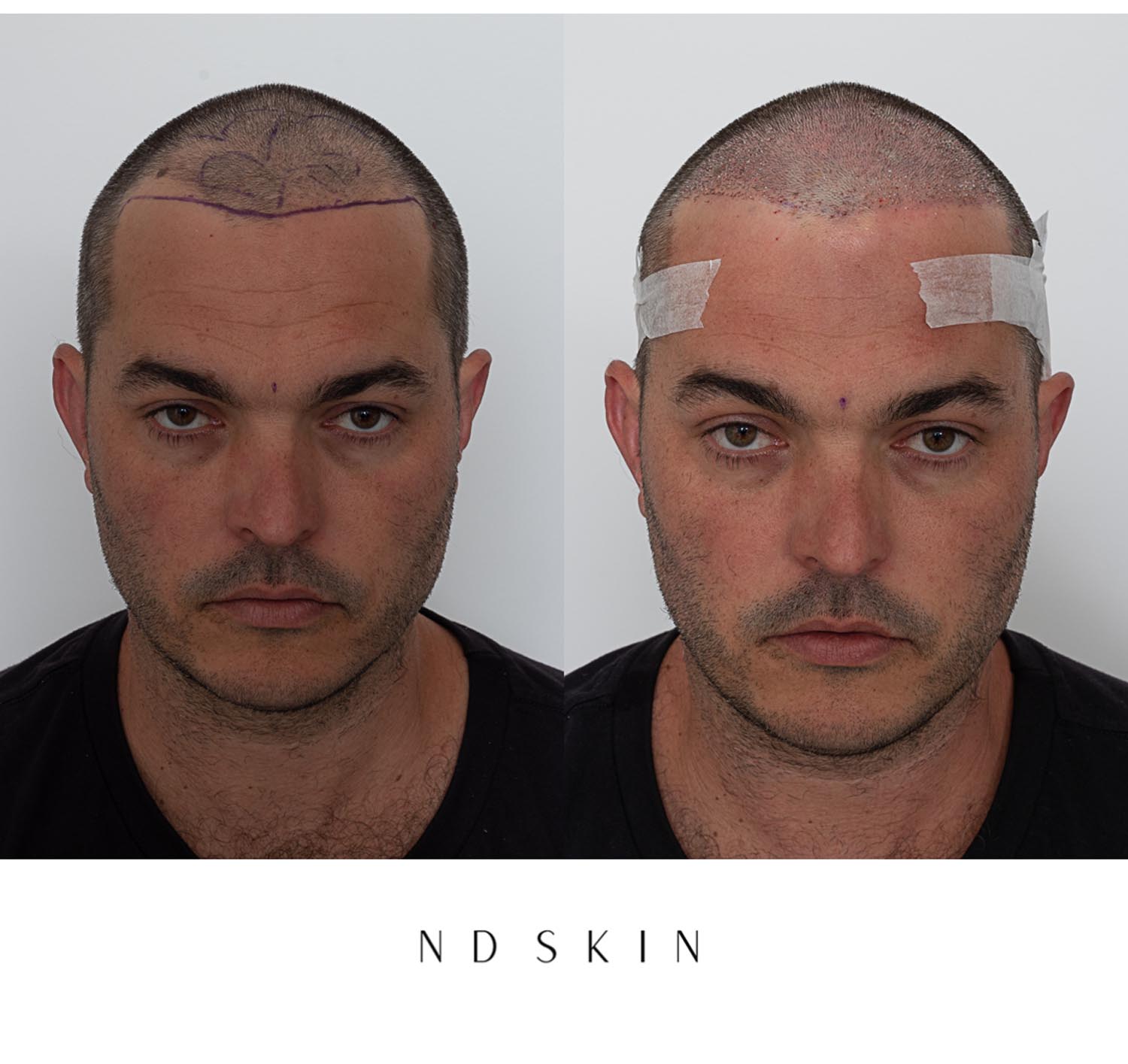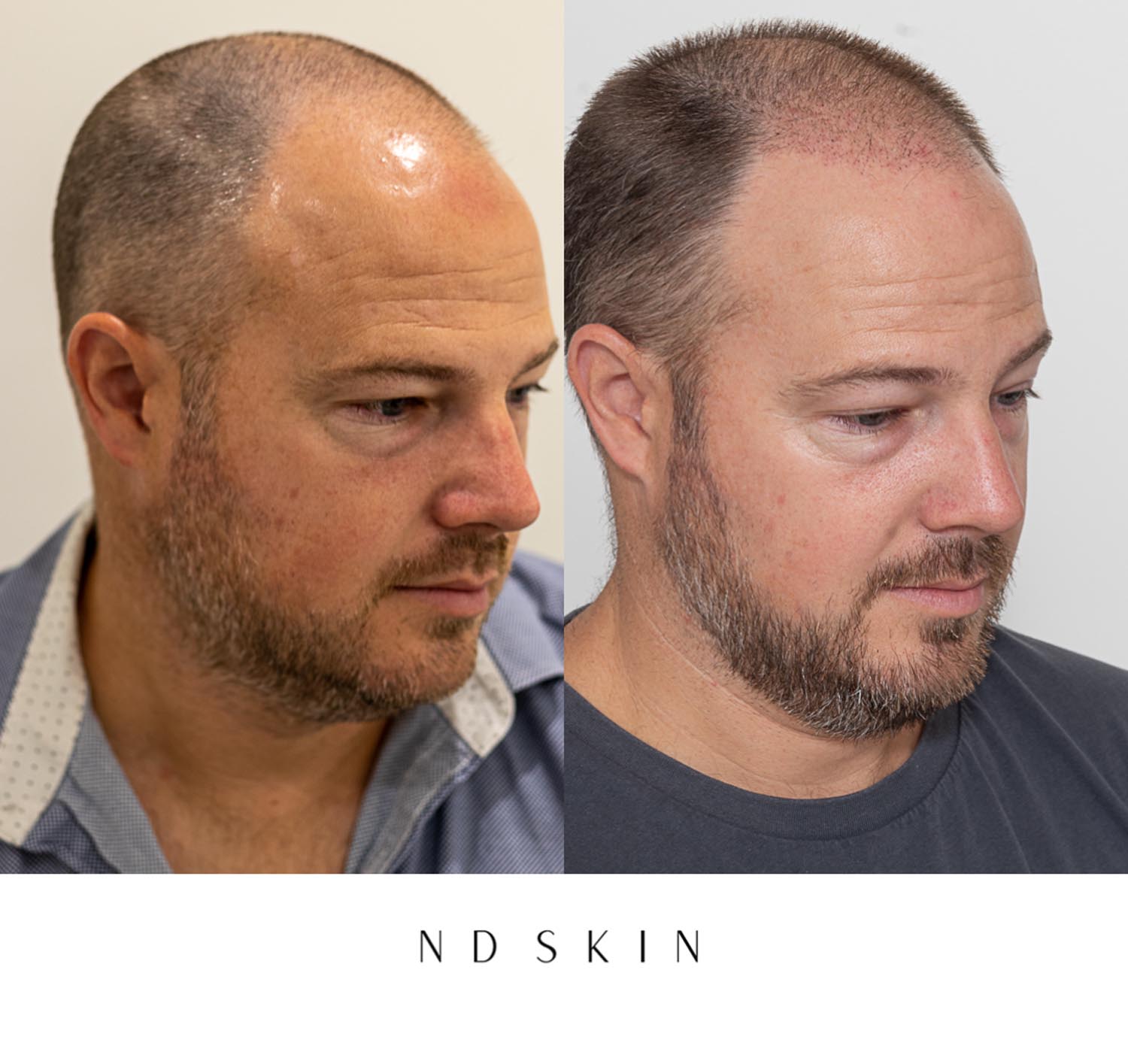 We are here for you! Please reach out.